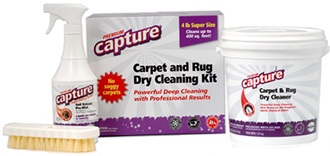 Capture Carpet Cleaning System
If you want your carpet to look great and last longer, clean regularly with Capture. All you need is your vacuum! Capture Carpet & Rug Dry Cleaner is made of thousands of tiny particles that look and act like sponges to absorb dirt, spills, and even allergens. It is safe on all types of fibers and fabrics, and it's approved for use on all satin resistant carpets. It is even safe for use on wool rugs. You get professional results without the high costs. Once the Capture powder absorbs a stain particle, it won't let it go. That means you don't have to worry about tracking dirt and odors from one area to another while you're using Capture. You can use your rooms and hallways while you clean. Just vacuum up the powder when you're done.
Bona Floor Care
Bona's Hardwood Floor Care and Stone, Tile & Laminate Systems are designed for effective and easy care of hardwood floors. Protect your investment by cleaning with the waterborne, GREENGUARD certified floor care products that are the #1 choice of professionals and are safe for floors, families, and the environment.
Bona US, the North American subsidiary of Bona AB, Malmö, Sweden, manufactures and distributes complete systems for hardwood floor care products. The Bona System meets or exceeds all state and federal clean air quality standards, and reflects Bona's commitment to personal health, indoor air quality and the environment.